2018 Main Conference Speakers
Cathy Ledford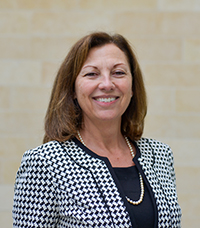 Cathy Ledford, Assistant Vice Chancellor, Human Resources and Chief of Staff to the Vice Chancellor and Chief Financial Officer began her career at UC San Diego in 1980 at the UC San Diego Medical Center as an Administrative Assistant in the Health Services Program. She obtained her Master's in Business Administration in 1985 at which time she took a role in the Medical Center CFO office as a Sr. Administrative Analyst. In 1990 she transferred to the School of Medicine and worked as a Principle Administrative Analyst to the Dean for Clinical Affairs as well as the Vice Chancellor and Dean for the School of Medicine. This position opened up an opportunity to become the Department Business Officer for the Department of Anesthesiology which she held for two years. In 1993 the Medical Center underwent a $48M cost reduction and Cathy was asked to oversee this effort which was successfully accomplished within two years. She was then asked to become the Administrative Director for Quality Management in which she oversaw all clinical quality programs and customer service.
In 2009 Cathy became the Administrative Vice Chair for the Department of Ophthalmology where she had oversight of a $25M budget, 250 staff, over 50 clinical and academic faculty, facility and space planning for three buildings with over 91,000 square feet and day-to-day operations of one of the busiest UC San Diego clinical programs with over 110,000 visits annually.
In 2013 she moved to the campus in the role of Chief of Staff to the Vice Chancellor of Business and External Affairs which has since been changed to the Vice Chancellor, Chief Financial Officer. After the retirement of the AVC, Human Resources in 2014, she was asked to be the Interim Assistant Vice Chancellor, Human Resources which she held for 9 months. One year later she was asked to take on the role on a permanent basis.
EVC Elizabeth Simmons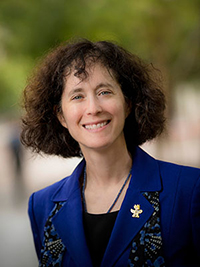 Dr. Elizabeth H. Simmons is the Executive Vice Chancellor for Academic Affairs at the University of California San Diego. In this capacity, she serves as UC San Diego's chief academic officer and is responsible for policies and decisions relating to all academic programs and curriculum, instructional support programs, and faculty appointments and performance. She is the institution's second-ranking executive officer and acts on behalf of the Chancellor in overseeing the University in his absence.
Dr. Simmons previously served as Associate Provost for Faculty and Academic Staff Development, Dean of Lyman Briggs College, and University Distinguished Professor of Physics at Michigan State University (MSU). In her Associate Provost's role, Simmons led the Academic Advancement Network, which promotes an inclusive, proactive culture of professional development for all MSU faculty, academic staff, and academic leaders. Simmons served as Dean of Lyman Briggs College for over a decade and in 2004, successfully led the college on a 25% expansion of its student body, nearly 50% growth in faculty, and renovation of all teaching laboratories. She was an American Council on Education Fellow at Yale University during the 2013-14 academic year; during 2014-15, she served as Acting Dean of MSU's College of Arts & Letters.
Simmons is a theoretical high-energy physicist whose research focuses on the origins of the masses of the elementary subatomic particles, especially the top quark. She is currently studying how physics beyond the Standard Model might manifest in experiments in progress at the CERN Large Hadron Collider. She enjoys teaching physics courses at all levels, from introductory to graduate, and a central tenet of her mission as an educator is to encourage students from groups under-represented in physics to consider studies and careers in the physical sciences. She will hold a faculty appointment in the UC San Diego Department of Physics.
After completing her undergraduate degree in physics at Harvard University magna cum laude and being inducted into Phi Beta Kappa, Simmons earned an M.Phil. in physics at Cambridge University as a Churchill Scholar. She returned to Harvard for her doctoral degree and postdoctoral fellowship, and then spent a decade as a professor at Boston University before joining the MSU faculty in summer 2003. She is a Fellow of the AAAS, a Fellow and Outstanding Referee of the American Physical Society, a General Member of the Aspen Center for Physics, and serves on the Board of Directors of the Association of American Colleges and Universities. She won the ACE Michigan Network's Distinguished Woman in Higher Education Leadership Award in 2005 and MSU's Robert F. Banks Award for Institutional Leadership in 2013.
Simmons has served as a US Delegate to the International Conference on Women in Physics in 2008 (Korea) and 2011 (South Africa) and has coorganized 2013, 2015 and 2017 conferences on professional development for women physicists in the developing world at the International Center for Theoretical Physics (Italy). She writes a regular column "Mend the Gap" for Inside Higher Ed, addressing issues that bridge the divide between administrators and faculty and is a 2017 Top Writer on Quora. Simmons is a member of the Organizing Board of the advocacy group lgbt+physicists and a co-author of the recent LGBT Climate Report commissioned by the American Physical Society.
Dulce Garcia
Dulce Garcia grew up in Barrio Logan, a community that is predominately Mexican and Mexican-American. She received her bachelor's degree in Political Science from UCSD. She attended law school at Cleveland Marshall College of Law where she received her Jurisprudence Doctorate with a concentration in Civil Litigation.
Dulce opened her private practice in San Diego in 2016 in the area where she grew up. She opened her second office last year in Chula Vista. She often volunteers with organizations to inform the community of their rights and represents low income clients in court.